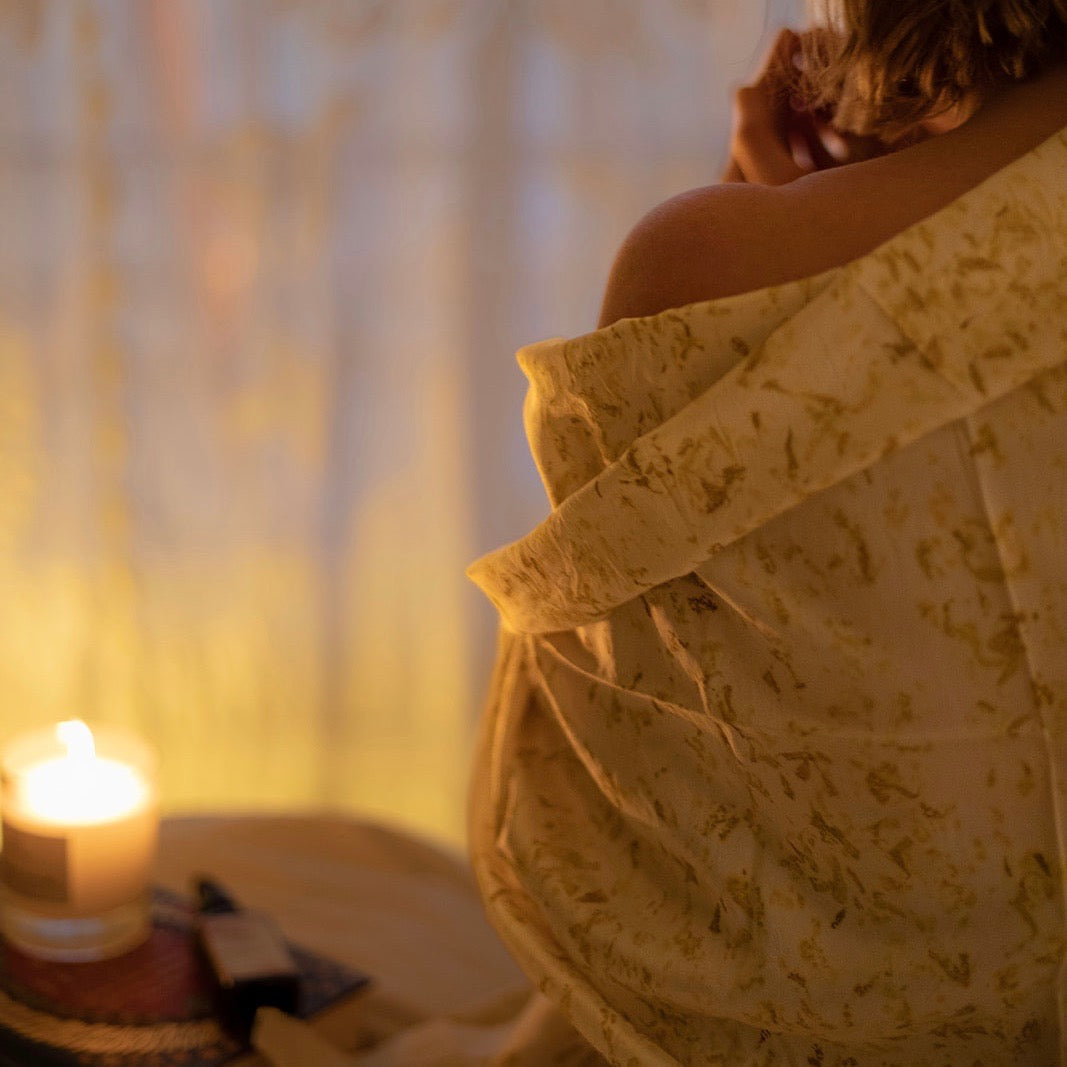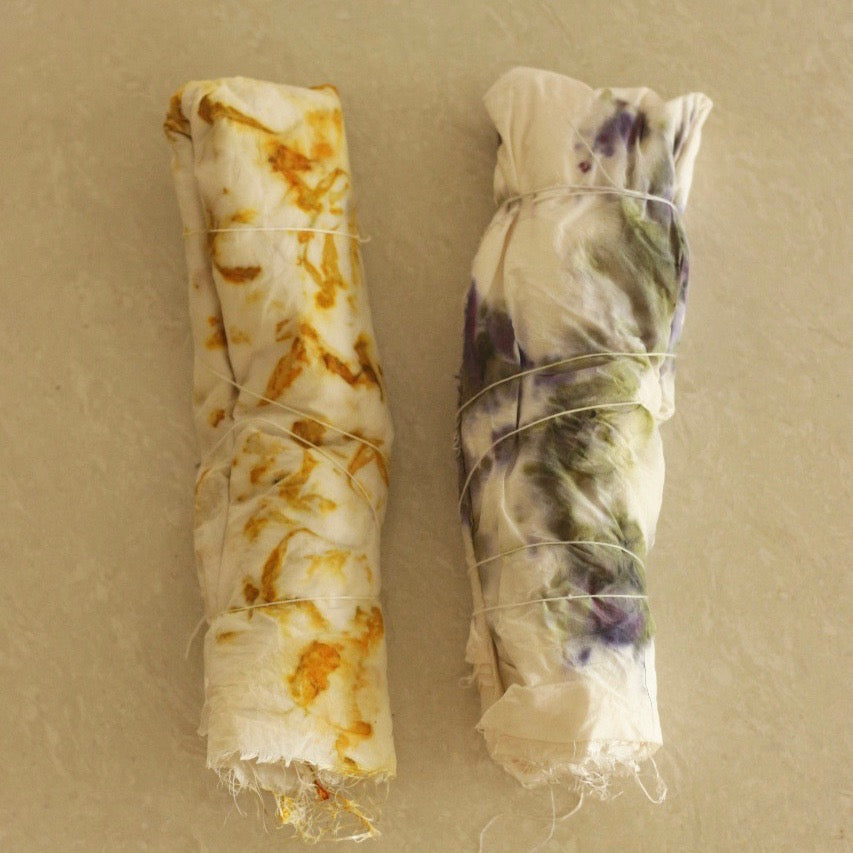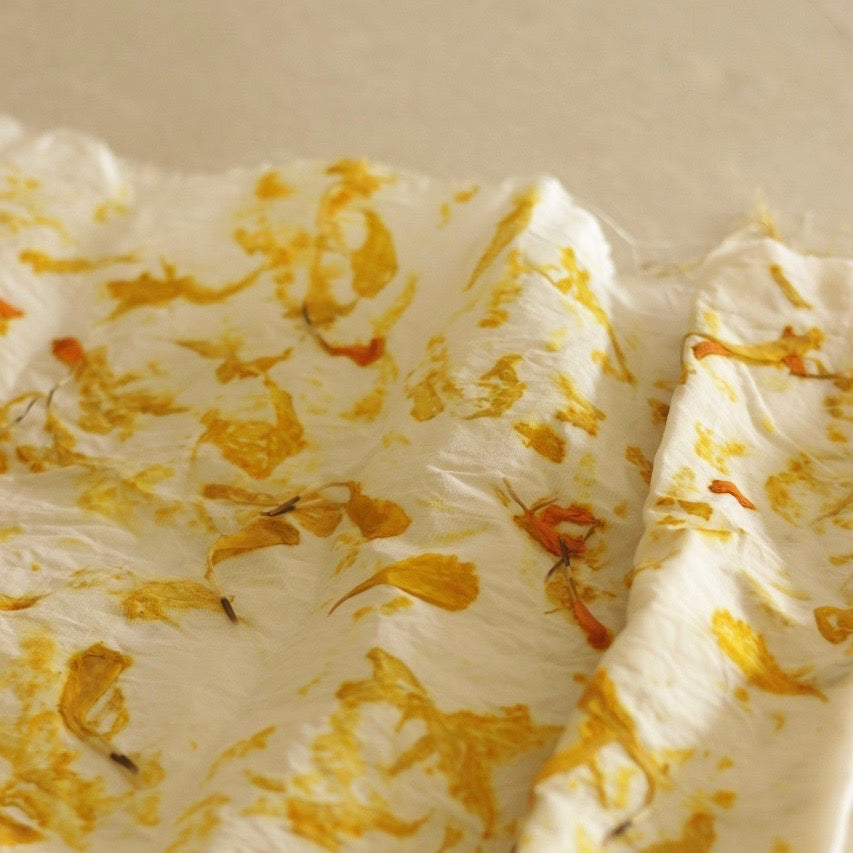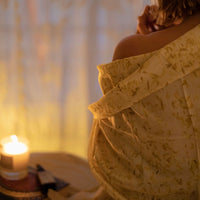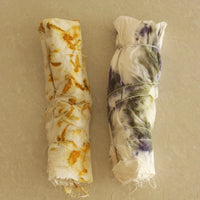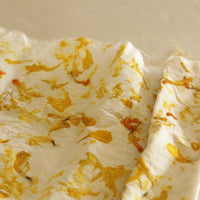 Golden hues, liquid texture and timeless luster. Our artisan-made plant-dyed meditation silks are a sensorial invitation to unwind and savour the beauty of stillness. Ethically crafted from finest-grade Habotai silk, a hypoallergenic, breathable, nourishingly soft, antimicrobial natural fabric, each silk is also toxin-free because lovingly dyed with flower petals. This makes them kind to your skin, kind to the hands that craft them, and kind to the planet.
These precious silks have been developed in creative collaboration with Thread Tales, an independent, female-founded ethical luxury brand specialised in ecologically and socially responsible textile accessories produced through lovingly nurtured partnerships with indigenous artisans across Myamar, India, and Nepal.
Kind to your skin
Ayurveda, traditional Eastern medicine, tells us that our skin has incredible absorbent abilities. Our botanical silks are hand-dyed in Mumbai using hibiscus flowers and marigold petals collected from the local Hindu temples, and even the mordant used to extract and fix the pigment to the fabric are from natural origins. As such, you can be sure that no harmful chemicals but only the most gentle natural compounds from the Earth come in contact to your skin.

Kind to our Artisans
Beyond safe and respectful working conditions, we are committed to using ingredients and techniques which are planet-friendly and kind to humans. These sheets are designed and created in partnership with FairKonnect, a socially responsible, female-led FairTrade certified company based in Bangalore and plant-dyed in a home-based unit in Maharashrea, Mumbai.

Kind to the planet
Every piece in this collection is dyed through a zero-waste process with marigold petals collected from the local temples, where this sun-hued flower is used as an offering. This is the most Earth-friendly dyeing method because the dyes originate from Nature, no polluting effluents are generated at any stage of this process, and both ingredients and final products are completely biodegradable. Furthermore, in line with our responsible production principles, we only produce a limited quantity of pieces to avoid overstocking.

How are our silks are made
Marigold petals are hand-gathered from the local temples and brought to our partner's home-based facilities. There, the silk material is scoured to with a biodegradable soap to remove any traces of dirt, wax, dust and coatings. The Habotai silk is then layed out and the petals are sprinkled onto the fabric. The sheets are carefully rolled into bundles and hand-steamed over heated pots of water to extract the plant's natural pigments. To bind the dye to the material a natural mordent (potassium or aluminium sulphate) is used to act as a bond between the fibre and the dyestuff. Once the fabric has been thoroughly steamed, the sheet is slowly rolled out and the petals removed.

Care Instructions
Please be sure to look after natural dyed silks by hand washing with lukewarm water with a PH neutral gentle soap and air dry. Do not machine wash or tumble dry or use normal soaps or detergents as this can affect the colours.
Of The Earth. Evocative. Universal.
We work with purely natural and organic, vegan and ocean-friendly ingredients, sourced directly where possible. Fragrant oils, salts and active elements, carefully chosen for their therapeutic properties and impact.

We believe in nurturing kállos, the combined virtues of physical appearance and soul. We collaborate with artists who lend their essence and unique aesthetic to our amber glass bottles, bringing beauty with depth and meaning to everyday self- care.
We believe that simplicity is one of the greatest luxuries of our time. We embrace a holistic, unifying outlook and as such our range is designed for multi-purpose use. Our products are made for people of all ages, genders and cultures.